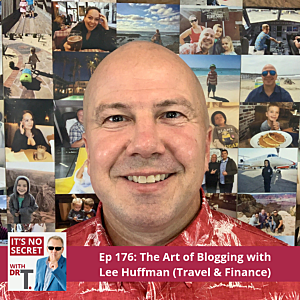 If you've ever considered blogging for a living, then this is the episode you'll want to play again and again. Lee Huffman from Nashville, Tennessee is a former financial planner and corporate finance manager who now writes about early retirement, credit cards, travel, insurance, and other personal finance topics through his website Bald Thoughts and his podcast We Travel There.
He enjoys showing people how to travel more, spend less, and live better. When Lee is not getting his passport stamped around the world, he's researching methods to earn more miles and points towards his next vacation.
On this episode we discuss:
His blogging career
The importance of building relationships at conferences
My guest appearance on We Travel There talking about Cairns
Travelling frugal and using points to get more out of your travel experiences
Guest blogging
Why you must plant the seed before you can harvest
Treat writing for free like an internship
Companies that allow for blogging in their marketing budgets
Cold pitches
His FREE COURSE - showing people how to use miles and points to make their travel dreams come true
Websites Lee writes for ThePointsGuy.com, Choosefi.com, Supermoney.com, Financebuzz.com
How do you promote your blog and get more traffic to your website (using social media, friendships, speaking at conferences and blogging about it, and using hashtags such as #kimptonhotels)
The 80:20 Rule - 80% of your time should be spent marketing your blog.
Final Tip
To get your blogging noticed, review other peoples websites, reach out on social media and mention you could write an article to fill a whole in their content that they are missing.
Ask, would you be interested in reading my writing. Here's a proposed title and structure of the article.
Initially, you will guest post for free until you build your reputation.
You need to get your name out there on other people's sites, then when you want to charge you can show them your body of work and where else you have written.
If you have any questions about this podcast episode, please send me an email at email/tf)(tysonfranklin.com, or you can contact Lee Huffman via BaldThoughts.Com, his podcast We Travel There or on social media @baldthoughts and @wetravelthere
Podcast Reviews
If you enjoy listening to It's No Secret with Dr T., please tell your friends, and if you enjoy it a lot, it will put a HUGE smile on my face if you left a review on iTunes, or wherever you like to listen to podcasts.
Subscribe To My Newsletter
If you'd like to be kept up to date with my speaking engagements, EVENTS and other activities I'm involved in, please sign up to my NEWSLETTER, and I promise not to spam you with daily emails.
Podiatry Business Mentoring
If you've considered getting yourself a business mentor or coach this year to help take your podiatry business to the next level, and you're sick and tired of all the beige programs currently on offer, please send me an email at email/tf)(tysonfranklin.com and let's discuss your specific business needs.
FREE

DOWNLOAD:
First 16 Pages of My Book – It's No Secret There's Money in Small Business.
If you're a Podiatrist you may prefer to order my first book; It's No Secret There's Money In Podiatry.
If you enjoyed this episode you might also enjoy: