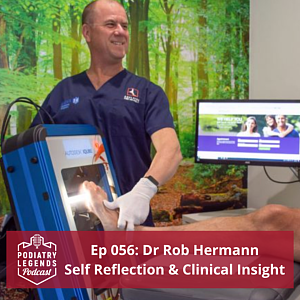 We're all faced with adversity at one point or another in our podiatry careers and when it happens it a great time for self-reflection and opportunity for personal and professional growth.
Dr Rob Hermann is a Podiatric Surgeon and owner of Adelaide Foot & Ankle, and he has been practising foot and ankle surgery since 1991. He has practice surgery in all States of Australia and has participated in medical mission work in the Philippines and Vietnam.
He has had a brilliant career and continues to give back to the profession in many ways, but it has not been all smooth sailing, as you'll learn.
On this episode we discuss:
His early career and introduction to foot surgery

The benefits of sharing knowledge

Communicating with patients
The most difficult thing to learn is not the technical aspects of podiatry; it's the psychology and learning how to connect with your patients. It's about developing skills on how to ask the right questions and listening to where the patient is coming from.
Communicating treatment expectations and outcomes
Consultation timing
What's coming up for podiatric surgeons in the future
Accreditation
Facing adversity in your career and how to deal with it
An online surgical audit tool
Self-Reflecting and clinical insight
Keeping You Active Podcast (coming soon)
Why sleeping on a decision and gives your mind time to process and provides clarity.
If you have any questions about this podcast, please email me at email/tf)(tysonfranklin.com, or you can connect with Dr Rob Hermann at Adelaide Foot & Ankle.
Show Sponsor is

Podium
If you want to learn how to get an edge over your competitors and receive more frequent Google Reviews, and how to keep all your online messaging in one convenient place, then you need to visit our dedicated sponsors' page at https://try.podium.com/podiatrylegends/
Newsletter &
Events
If you'd like to be kept up to date with my next PODIATRY MARKETING WORKSHOPS and other EVENTS, please sign up to my NEWSLETTER. I promise not to spam you with daily rubbish.
Next Event - Podiatry Marketing Workshop, Saturday, February 15th November, Gold Coast
Podiatry Business Coaching
If you and your podiatry business need help with marketing and business systems, please email me at email/tf)(tysonfranklin.com and let's see where I can help, or visit the coaching and mentoring section of my website.
Podiatry Legends

Facebook Page
I have set up a Podiatry Legends Facebook page, where I post additional business and marketing tips, information regarding podiatry events and conferences around the world.
My Book
It's No Secret There's Money In Podiatry. In Australia, you can order directly from my website, but if you live overseas, I would suggest Amazon or the Book Depository.
Consider A
Podcast Review
If you enjoy the Podiatry Legends Podcast, please feel free to leave a REVIEW on iTunes, or wherever you like to listen to podcasts.
If you enjoyed this episode you might also enjoy:
Ep 049: Dr Andrew Van Essen Volunteering Is A Great Career Move
It's No Secret with Dr T. Podcast
If you like marketing and small business, please take a look at my other podcast; It's No Secret with Dr T.