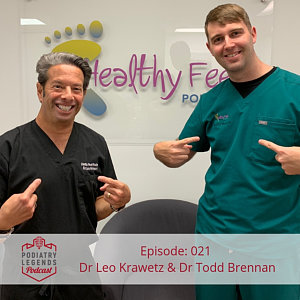 We've all heard that using video is a great way to market your podiatry business and my guests today, Dr Todd Brennan and Dr Leo Krawetz from Healthy Feet Podiatry in Florida have taken it to a whole new level. At the time of recording this podcast episode, their YouTube Channel had just over 125,000 Subscribers (It's currently at 140,000).
They began using video in 2009 because they were told video was going to be a valuable marketing tool in the future for podiatry. They admit their early videos were not very good, but they continued anyway.
100 to 3,000,000
That first video had approximately 100 views, and at the time they thought that was amazing. Today, it's not uncommon to get 40,000 views in the first week, and one of their videos has had over 13,000,000 (thirteen million) views.
After starting their YouTube account, they only did three or four videos in that first year.
Video Went Viral
Eventually one of their videos about removing a wart went viral (six million views), and they thought WOW, what a great marketing tool for their podiatry business. Currently, their videos generate approximately 200,000 views per day.
Keep The Recording Process Simple
All their videos are shot using their iPhones. There's no flashy equipment or lighting. When they see something interesting, and after getting the patients consent, they give their assistant a couple of quick instructions on what information they want to focus on, and they record.
At present they record and post between two to four videos per week and they do all the editing themselves.
Important Tips For YouTube
Good thumbnail image
Catchy title
Use keywords in title and description
Watermark your videos (add logo)

It's all about repetition and be prepared to shoot a lot of videos. Using video is also a great teaching opportunity, and it makes your workday fun.
Putting Bums On Seats
"YES. Every day patients will come in and say they've seen our videos or will tell us that they have something interesting that may be worth videoing".
Currently, they see 500 new patients every month, and every day a proportion of their new patients will say they have seen their videos. It's important to realise that Google owns YouTube, so it is important to utilise both because this is where patients are searching for answers.
Social media marketing is continually changing so you need to keep track of what is happening and where is your audience is spending time.
Final Tips
(Todd): Jump in and start using video. You will feel awkward, but it gets more comfortable with time.
(Leo): Be consistent with your videos. You've got to go all in.
"What you think is boring will be interesting to others".
If you have any questions about this episode, please email me at email/tf)(tysonfranklin.com, or you can connect with Drs Todd Brennan & Leo Krawetz at Healthy Feet Podiatry.
Every successful podiatrist has an excellent foundation in biomechanics, it's that simple, and this two-day workshop is going to be jam-packed with useful biomechanical information you can apply immediately in your business and with your patients.
In addition to having excellent biomechanical skills, it's equally important to know how to market these skills. You can have the most advanced biomechanical equipment and have acquired biomechanical skills far beyond any of your competitors, but without a well thought out marketing strategy, it will, unfortunately, go unnoticed.
This is why we're bringing Biomechanics and Business together in one 2-Day Workshop.
If you enjoyed this episode you may also enjoy:
Ep 013 - Dianne Ashcroft Lessons Learnt From 300+ Videos
Podcast Reviews
If you enjoyed this podcast, it would put a big smile on my face if you left a review on iTunes or your favourite podcast platform.
Most Recent Review
GREAT PODCAST: ☆☆☆☆☆ "I'm really enjoying this podcast. Tyson Franklin is an excellent host and brings humour to the show. He does a great job of steering the conversation to get the most out of his guests. The podcast certainly sets out what it hopes to achieve, which is informing podiatrist around the world what great and innovative things other podiatrists are doing. I'd highly recommend this to any podiatrist." Benn Boshell via Apple Podcasts · Great Britain · 05/02/19