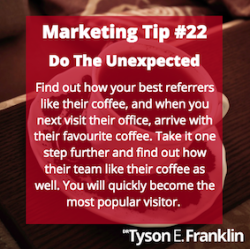 Regardless of your industry, the relationship you develop with your referral sources, both professional and non-professional will get stronger over time. Some referral sources even become good friends.
How Much Do You Know?
Having said that, if you thought about your 'current' Top-10 referral sources, could you tell me how many children they have, where their last holiday was, the type of car they drive, or the name of their spouse/partner? If you can, that's great, but most won't be able to.
It takes time to build the relationship and learn this personal information, however finding out how they like their coffee (or tea) is not that difficult. If the referrer has a business or practice manager, directly ask them about the referrers, coffee likes and dislikes on your way out. Also, ask if they have a favourite coffee shop nearby.
The Gatekeepers Friend
The next time you're planning to visit, make sure you arrived armed with the referrers favourite coffee. If you want to take it one step further, you could phone ahead, ask for the business or practice manager, and let them know you're going to grab yourself and the referrer a coffee on your way in, would they like one as well.
If it's a small team, you could buy everyone a coffee and keep a record of who liked what coffee.
By doing this you show you care about the whole team, not just the referrer, and once you have the gatekeeper and team on your side, doors will open much easier for you, and they will look forward to your visits.
Cost-Effective
This marketing tip is a medium to long-term strategy, depending on how often you meet your referrers, but it is also cost-effective. How much is a cup of coffee in your area?
Doing the unexpected will make you stand out from the crowd, but don't limit this idea to coffee. What else could you do that is cost-effective and noticeable. When I owned my podiatry business in Cairns I had a sales-rep visit my business monthly, and she always bought muffins, and everyone on my team looked forward to her visit. I also had other sales-reps that came empty-handed. Who do you think my team liked more?
If you have any questions, please email me at email/tf)(tysonfranklin.com and if you want weekly inspiration and business education, please check out my podcast, It's No Secret with Dr T.
FREE DOWNLOADS:
First 16 Pages of My Book – It's No Secret There's Money in Small Business.